A Customer Journey Map: The Secret Tool Successful Websites Use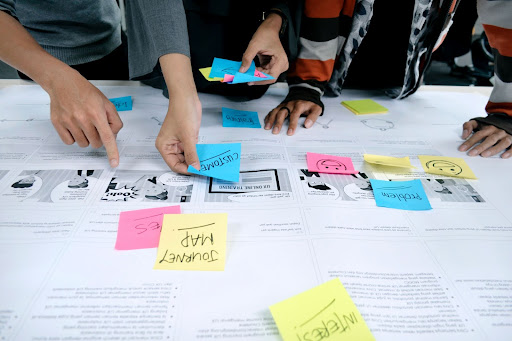 The old adage 'If you build it, they will come' doesn't always work. It's not just a matter of creating the right product and hoping it solves your customer's problem. You need to understand their needs, goals, and motivations in order to connect with them. A customer journey map can help you do that.
A CJM can help you uncover what your customers want from your business and how you can better deliver it. It can help you create a visual representation of your brand story, product or service offerings and identify areas for improvement.
You don't have to look up 'customer relationship management def' to understand how this tool works. In this blog, we'll take a look at what a customer journey map is, how it can help your business, and how live chat can be integrated into a customer journey map to ease any friction points and provide additional support for customers on your website.
What is a customer journey map?
A customer journey map is a visual representation of the customer's journey through your business. This can be done for both offline and online processes, but it's helpful to think about the overall steps your customers follow when they interact with you and your products or services.
It helps you understand what your customer needs and how you can meet them. It also identifies potential issues that may be preventing customers from achieving their goals – and offers solutions for resolving those issues.
Why do you need a customer journey map?
Now that you know what a customer journey map is, let's look at why you need one.
A good and effective CJM will help you:
Understand your customers better.
You can know which customers are most likely to buy your products or services by better understanding how your customers feel about the experience they have with you and your company.
Create an engaging experience for your customers.
When you better understand its customers, you can improve the way your company interacts with customers. This can help you retain customers and turn them into repeat buyers.
Understand their needs at each stage of the buying process
By breaking down each stage of your customer's journey and understanding their needs, you can create an experience that meets those needs. Identify where customers get stuck along the way – and how you can remove those roadblocks, which helps you increase sales conversions.
How to create a customer journey map?
To create a customer journey map, you need to first list out all the touch points in your customer's journey and identify where they experience pain points along the way. Next, you should identify your business goals and objectives and also think about who are stakeholders within your business or organisation that might be able to help or hinder this process.
Finally, once you have completed all these steps above, it is time to start mapping out what needs to be done around each 'touch point' on your map with clear actions that will take place from each stage of the process.
Part of the goal of a customer journey map is to define what success looks like. You might have one goal or many goals – there are no limits! Once you have this defined, think about how you can use design or copy elements to help guide your customers along their path toward success.
You need to make sure that each step on your customer journey map has a clear objective or purpose. If you don't have an objective for each step, you could be missing out on opportunities for conversion. For example, if your goal is to get people to sign up for a newsletter or a service, but you don't have a clear call-to-action (CTA) in place, then it may not be obvious what action customers should take next.
Keep your customers engaged with live chat services
Live chat is a powerful tool to help you keep your customers coming back again and again. Website chat can make the difference between a one-time sale and a customer who comes back every time they need something. It is not just customer support – it's about building awareness, consideration, decision-making, acquisition, and retention.
Here's how live chat can help you:
Awareness: The first step to any successful relationship is getting noticed. Live chat services make it easy for potential customers to find out more about your business, learn about your products/services and get answers to questions they might have before making a purchase or signing up for any trials.
Consideration: Once you've made contact with someone new, it's important to show them what else you have in store for them by giving them more information on what they're looking for and how it could be better than what they're currently using.
Decision-making: This way, they can make an informed decision about whether or not they want your product/service enough to move forward with an actual purchase/signup process.
Acquisition: One of the best ways to increase conversion rates is to make the customer experience as smooth and effortless as possible. Live chat is a great way to accomplish this, especially when you have the help of our well-trained agents.
Retention: When customers don't have to wait long for a response or go through lengthy self-help resources, they are more likely to return because of how easy it was for them.
At Greechat, we're dedicated to helping businesses create lasting relationships with their customers through live chat.
Explore More Topics